AAALAC International Coronavirus Guidance
We are sensitive to the significant impact that the coronavirus outbreak is having on many programs, and want you to know that we are allowing flexibility in site visit scheduling.
---
Postpone your site visit
If you are scheduled for a site visit and need to postpone the visit due to coronavirus impacts on your program, you can submit a request to the Executive Office (accredit@aaalac.org). Please include your six digit unit number in the request.
If you choose to submit a request for postponement, we ask that you coordinate at the institutional level and submit only one request.
---
Discuss options for rescheduling or request an extension
If you would like to discuss options for site visit scheduling, please contact Dr. Gary Borkowski, gborkowski@aaalac.org, Global Director, or the Senior Director for your region (Southeast Asia – Dr. Montip Gettayacamin, montipg@aaalac.org; Europe, Latin America, Africa and Middle East – Dr. Javier Guillen, jguillen@aaalac.org).
If you would like to request an extension for the due date for submission of Program Descriptions, please contact Dr. Borkowski.
---
For new applicants
New applications are welcome and are processed at the time they are received at the AAALAC International Executive Office. You will receive correspondence acknowledging receipt of your application and Program Description. The scheduling of the initial site visit may be delayed due to the COVID-19 pandemic, and you are welcome to contact the AAALAC Office for questions. Please send your questions to accredit@aaalac.org. (See FAQs for COVID-19 for additional details.)
---
AAALAC International Site Visits During COVID-19 Presentation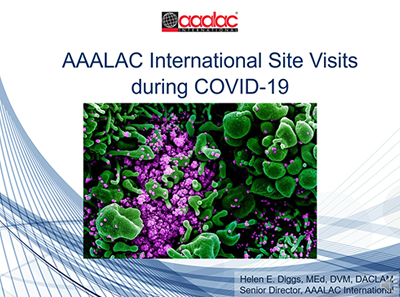 *Click "Read Only" on the right side of the dialog box to open. This presentation includes audio -- play as a "Slideshow" to hear the audio.
---
Contact AAALAC International office staff
You can reach us at +1.301.696.9626 or by email…
---
Thank you Animal Care Staff for your continued dedication during COVID-19
As a small token of thanks, we have compiled word games and recipes; may they brighten your days and break times... Download Here
---
COVID-19 Resources
World Health Organization
https://www.who.int/
Office of Laboratory Animal Welfare (OLAW)
https://olaw.nih.gov/covid-19.htm
U.S. Department of Agriculture (USDA)
https://www.usda.gov/coronavirus
World Organisation for Animal Health (OIE)
https://www.oie.int/en/for-the-media/press-releases/detail/article/covid-19-and-veterinary-activities-designated-as-essential/
U.S. Army Animal Care and Use Review Office (ACURO)
https://mrdc.amedd.army.mil/assets/docs/orp/acuro/ACURO_Guidance_for_COVID-19.pdf
American Veterinary Medical Association (AVMA)
https://www.avma.org/resources-tools/animal-health-and-welfare/covid-19
U.S. Department of Veterans Affairs - VA Animal Research Program
https://www.research.va.gov/programs/animal_research/default.cfm
Interactive global overview of how animals are helping in Covid-19 research (maintained by the European Animal Research Association, EARA)
https://public.flourish.studio/visualisation/1698667/?mc_cid=40a1b8b131&mc_eid=14a81d74b2
Questions About the Importance of Transparency During COVID-19 (from Americans for Medical Progress)
Download PDF
It's OK … NOT TO BE OKAY … Let's Talk COVID-19 (from the Institute of Animal Technology)
Download PDF
COVID-19 Pandemic Response Resources and FAQs for Animal Care and Use Programs - April 8, 2020 (NIH Office of Laboratory Animal Welfare)
https://olaw.nih.gov/education/educational-resources/webinar-2020-04-08.htm
Breeding and colony management following COVID - NC3Rs
https://nc3rs.org.uk/breeding-and-colony-management
The Many Model Systems of COVID-19 (The Scientist, posted 11/4/20)
Download PDF
---
We are continuing to monitor the coronavirus situation and will provide updates as appropriate.