---
February 2022
Apply now for 2022 Awards!
DEADLINE JUNE 1st 2022
2022 Global 3Rs Awards Programs & AAALAC Fellowship program
********************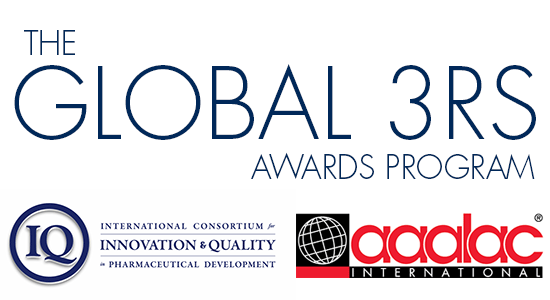 The Global 3Rs Awards program is a collaboration between AAALAC International and the IQ Consortium recognizing significant innovative contributions toward the 3Rs of animal research to advance ethical science, by any researcher (nominated author, principal investigator, or research team leader) in academia or industry in any area of biology (e.g., basic science, discovery, development, teaching, testing, manufacture for new medicines, vaccines, medical devices or healthcare products for humans and animals).
Up to four Global Awards (North America, Europe, Pacific Rim, and the Rest of World) will be presented in 2022 in the amount of $5,000 (USD) each. Award nominations must be based on a primary research paper that advances any of the 3Rs (i.e., the Refinement, Replacement or Reduction of animal use) and is published in a peer-reviewed journal in the last three (3) years.
DEADLINE FOR APPLICATIONS: June 1, 2022
Questions? Please email Global3Rs@aaalac.org.
********************

Now accepting applications from IAT RAnTech Applicants!
The AAALAC International Fellowship recognises two outstanding individuals—one IAT RAnTech and one AALAS Registered—who have made (or have the potential to make) significant contributions to the field of laboratory animal care and use.

This fellowship is valued at more than £3000. The IAT RAnTech winner will receive a week-long guest visit to prestigious biomedical research facilities in the U.S. this fall, plus complimentary attendance at the National AALAS Meeting, the U.S.'s largest laboratory animal science and technology meeting. All registration, travel, lodging, meals, and out-of-pocket expenses are covered (receipts are required).
DEADLINE FOR IAT APPLICATIONS: June 1, 2022
Questions? Please email Fellow@aaalac.org.
---
Correction to an October 25, 2021, Washington Post opinion piece
AAALAC International would like to note an important correction to the October 25, 2021, Washington Post opinion piece, "Why is Anthony Fauci trying to kill my puppy?" For more than 50 years, AAALAC International has promoted the humane and responsible care, treatment, and use of animals needed to advance medical and scientific discoveries. As rightly noted in the article, this research saves lives and improves the health and well-being of both people and animals. However, the article states, "And it is recommended by the Association for Assessment and Accreditation of Laboratory Animal Care [sic] that the dogs undergo cordectomies to reduce anxiety (in dogs) and hearing loss (in humans) from barking." Such a recommendation is not contained in our standards and thus AAALAC International has not made this recommendation.
By accrediting participating institutions, AAALAC International fosters responsible animal care that uses policies and practices that meet or exceed our standards. AAALAC International has three primary standards: the Guide for the Care and Use of Laboratory Animals (NRC 2011); the Guide for the Care and Use of Agricultural Animals in Research and Teaching (2020); and the European Convention for the Protection of Vertebrate Animals Used for Experimental and Other Scientific Purposes, Council of Europe (ETS 123). The standards upon which the accreditation program is based are either grounded in the scientific literature or consensus documents produced by expert panels convened by scientific or government organizations. Additional questions may be directed to accredit@aaalac.org.
---
Council Adopts 4th Edition of the Ag Guide, 2020
For AAALAC International, the basic principles of ethical oversight, provision of veterinary care, and humane treatment apply to all animals that are part of the accredited program. AAALAC International has reviewed the Fourth (4th) Edition of the Guide for the Care and Use of Agricultural Animals in Research and Teaching (Ag Guide), American Dairy Science Association®, the American Society of Animal Science, and the Poultry Science Association 2020. The 4th Edition has been adopted, with clarifications, as a primary standard, replacing the 3rd Edition.
Program Descriptions submitted to AAALAC International by December 1, 2022 for evaluations beginning in the Winter 2023 Trimester, will be assessed according to the 2020 Ag Guide. As part of the adoption process for the Ag Guide, AAALAC International offers supplemental information and five clarifications. Click here to review the Ag Guide, 2020 with five clarifications.
---
September 2021
Drs. James G. Fox and Hilton J. Klein receive the AAALAC International Bennett J. Cohen Award
At the 2021 Annual Meeting of Member Organization Delegates, AAALAC presented its most prestigious award, the Bennett J. Cohen Award, to James G. Fox, D.V.M., M.S., and Hilton J. Klein, V.M.D., M.S.
Named in honor of the late Bennett J. Cohen, the AAALAC International Bennett J. Cohen Award recognizes outstanding individuals who have, through their exceptional service and significant contributions to AAALAC International, demonstrated a strong and abiding commitment to advancing science through promotion of the highest standards of laboratory animal care in research, testing, and education.
James G. Fox, D.V.M., M.S.
Dr. Fox served as an ad hoc Consultant to AAALAC from 1976-1980. He was elected to the Council of Accreditation in 1980 and served until 1985, including two years as Council President from 1983-1985. Dr. Fox later joined the AAALAC Board of Trustees representing the American Association of Veterinary Medical Colleges, from 1985-2001. Nominator and AAALAC Executive Director Emeritus Dr. Christian E. Newcomer noted that Dr. Fox also served on the 2013 Strategic Planning task force, stressing the importance of outreach and collaboration with other scientific organizations.
"Jim's scholarly output and editorial leadership in the complementary fields of laboratory animal science and medicine for the past 50+ years have provided AAALAC an ever-rising level of relevant quality standards to use in its accreditation program," noted nominator Dr. Steven M. Niemi.
---
Hilton J. Klein, V.M.D., M.S.
Dr. Klein began his career with AAALAC International as an ad hoc Consultant in 1987, serving for five years before his election to the Council on Accreditation in 1992. Dr. Klein served eight years on the Council, culminating as Council President. He became a member of AAALAC's Board of Trustees in 2001 representing the American Association of Industry Veterinarians. In 2014, he assumed the role of also representing the European College of Laboratory Animal Medicine. Dr. Klein became a Member-at-Large on the Executive Committee in 2015 and was elected to the position of Treasurer of the Board of Directors in 2017. He subsequently was elected to the position of Vice Chair Elect and Vice Chair, serving as Chair of the Board of Directors beginning in 2020. He continues to serve on the Board as Immediate past Chair.
"When the history of AAALAC International is written, Hilton's name will appear frequently in many of the most prominent accomplishments and milestones of AAALAC International," said nominator Dr. Dale Martin.
Please join us in congratulating these two outstanding recipients on receiving AAALAC's highest honor!
---
AAALAC International COVID-19 FAQs
Updated October, 2020
---
Important updates to AAALAC's information management processes
Peer review is at the heart of the AAALAC International accreditation program. For the peer review process to be most beneficial to our accredited programs, trust and commitment are required from both parties—AAALAC and its team of evaluators as well as the program receiving the review. AAALAC has recently implemented two changes in order to communicate the importance of this trust and commitment within the peer review process.
First, AAALAC has expanded the section on "Confidential Records" in its official "Rules of Accreditation" to further clarify AAALAC's commitment to confidentiality and what is included under this umbrella. The updated section is available here.
Second, starting with the Winter Trimester 2021 all programs will be asked to certify that the information contained in the Program Description is a true, accurate and complete representation. A one-page certification document must be signed by the Institutional Official or authorized designee (click here to view). A certification will be included and required in all Program Descriptions and Annual Reports submitted to AAALAC.
Thank you for your ongoing commitment to quality animal care and science. Our commitment to you remains steadfast—to provide a robust peer-review process that supports and elevates the work of your institution.
---
WVA recognizes the Kerala – Indian Veterinary Association
The World Veterinary Association (WVA) awarded its 2020 World Veterinary Day Award to the Kerala – Indian Veterinary Association (IVA Kerala) for "Environmental Protection for Improving Animal and Human Health."
World Veterinary Day recognizes the work of veterinarians and their contributions to the advancement of animal health, welfare, and public health worldwide. Through sound partnership and engagement with veterinarians and para-veterinary professionals, veterinary students, farmers, Kerala governmental authorities, and the general public, IVA Kerala promoted the 2020 WVD theme while rising to the challenge of the SARS-CoV2 pandemic – providing critical resources and support to their local communities. More details are available here.
Congratulations to IVA Kerala for their tremendous efforts in observance of World Veterinary Day!
---

The World Veterinary Association and AAALAC International sign agreement to promote animal health and welfare
Brussels, Belgium and Frederick, MD, USA – The World Veterinary Association and AAALAC International have signed a Memorandum of Understanding (MoU) outlining ways the two organisations will work together to promote animal health and welfare. The World Veterinary Association (WVA) is an organisation that unites veterinary associations working in different areas of veterinary medicine around the world. AAALAC International accredits institutions around the globe that use animals in research, teaching and testing. As part of the MoU, both organisations commit to working together on specific goals to improve animal health and welfare worldwide. It also includes exchanging relevant publications and information pertaining to their core activities, participating in each other's meetings and conferences when appropriate, and working together to create a joint action plan.
"The WVA looks forward to collaborating with AAALAC International to further the health and welfare of research animals studied around the world," said Dr. Patricia Turner, WVA President. "Research animals, including those studied in agricultural research and wildlife studied as part of ecosystem health initiatives, are not equally protected in every country, and veterinarians do not always receive sufficient training and education in how best to meet the needs of these animals. This MoU represents an opportunity for the WVA and AAALAC International to strengthen veterinarians' education and role in this sector."
"We are delighted to collaborate with the World Veterinary Association on the initiatives outlined in the MoU," said Dr. Kathryn Bayne, Chief Executive Officer of AAALAC International. "While our missions are specific to the work of our respective organisations, we share a common aim of promoting animal health and welfare globally, and providing education that supports animal health and welfare. We look forward to working with the WVA to advance these important objectives."
The World Veterinary Association unites and represents the global veterinary profession including national and international associations of veterinarians working in different areas of veterinary medicine. The WVA works to assure and promote animal health and welfare and public health globally, through developing and advancing veterinary medicine, the veterinary profession as well as public and private veterinary services. More information is available on WVA's website: www.worldvet.org.
---
Thank you Animal Care Staff for your continued dedication during COVID-19

Our thoughts are with you during these unprecedented and disquieting times. We truly appreciate your unwavering dedication and commitment to the animals and all aspects of your animal care and use programs. As a small token of thanks, we have compiled word games and recipes; may they brighten your days and break times...
---