---
AAALAC International COVID-19 FAQs
Updated October, 2020
---
Important updates to AAALAC's information management processes
Peer review is at the heart of the AAALAC International accreditation program. For the peer review process to be most beneficial to our accredited programs, trust and commitment are required from both parties—AAALAC and its team of evaluators as well as the program receiving the review. AAALAC has recently implemented two changes in order to communicate the importance of this trust and commitment within the peer review process.
First, AAALAC has expanded the section on "Confidential Records" in its official "Rules of Accreditation" to further clarify AAALAC's commitment to confidentiality and what is included under this umbrella. The updated section is available here.
Second, starting with the Winter Trimester 2021 all programs will be asked to certify that the information contained in the Program Description is a true, accurate and complete representation. A one-page certification document must be signed by the Institutional Official or authorized designee (click here to view). A certification will be included and required in all Program Descriptions and Annual Reports submitted to AAALAC.
Thank you for your ongoing commitment to quality animal care and science. Our commitment to you remains steadfast—to provide a robust peer-review process that supports and elevates the work of your institution.
---
WVA recognizes the Kerala – Indian Veterinary Association
The World Veterinary Association (WVA) awarded its 2020 World Veterinary Day Award to the Kerala – Indian Veterinary Association (IVA Kerala) for "Environmental Protection for Improving Animal and Human Health."
World Veterinary Day recognizes the work of veterinarians and their contributions to the advancement of animal health, welfare, and public health worldwide. Through sound partnership and engagement with veterinarians and para-veterinary professionals, veterinary students, farmers, Kerala governmental authorities, and the general public, IVA Kerala promoted the 2020 WVD theme while rising to the challenge of the SARS-CoV2 pandemic – providing critical resources and support to their local communities. More details are available here.
Congratulations to IVA Kerala for their tremendous efforts in observance of World Veterinary Day!
---
AAALAC Board Officer Kenneth E. Anderson named PSA Fellow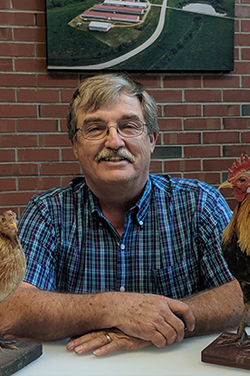 AAALAC Board Member and Officer Kenneth E. Anderson has been named a Fellow of the Poultry Science Association (PSA). Dr. Anderson is Professor and Extension Specialist in the Prestage Department of Poultry Science at North Carolina State University where he has been on faculty since 1990. The status of Fellow is one of the highest distinctions a PSA member can achieve. The election to Fellow recognizes members of the Poultry Science Association for professional distinction and contributions to the field of poultry science and service to the Poultry Science Association.
Dr. Anderson has authored or co-authored over 115 peer reviewed journal publications, 181 abstracts, 83 Extension articles and NC Layer Management Test Reports, and several other miscellaneous publications. He has also co-authored nine book chapters and has been invited nationally and internationally to approximately 181 conference presentations with proceedings, and over 125 extension-type presentations at industry meetings.
In 2019 he received the NCACES Outstanding Subject Matter Program Team Award in recognition of outstanding Research for the Poultry Industry. Over the years he has received numerous other awards including the Poultry Science Poultry Welfare Research Award in 2012. Dr. Anderson has served North Carolina State University as an IACUC member for 20 years and chaired the committee for four. In addition, he has served on the Animal Care Committee of the Poultry Science Association and as a representative on the AAALAC Board of Trustees and now House of Delegates for 18 years. Currently Dr. Anderson serves as Secretary on the AAALAC Board of Directors. Dr. Anderson has also served on the boards of the National Egg Products School and National Egg Quality School. He is also a member of the Animal Welfare Scientific Advisory Committee for Humane Farm Animal Care.
Please join us in congratulating Dr. Anderson!
---

The World Veterinary Association and AAALAC International sign agreement to promote animal health and welfare
Brussels, Belgium and Frederick, MD, USA – The World Veterinary Association and AAALAC International have signed a Memorandum of Understanding (MoU) outlining ways the two organisations will work together to promote animal health and welfare. The World Veterinary Association (WVA) is an organisation that unites veterinary associations working in different areas of veterinary medicine around the world. AAALAC International accredits institutions around the globe that use animals in research, teaching and testing. As part of the MoU, both organisations commit to working together on specific goals to improve animal health and welfare worldwide. It also includes exchanging relevant publications and information pertaining to their core activities, participating in each other's meetings and conferences when appropriate, and working together to create a joint action plan.
"The WVA looks forward to collaborating with AAALAC International to further the health and welfare of research animals studied around the world," said Dr. Patricia Turner, WVA President. "Research animals, including those studied in agricultural research and wildlife studied as part of ecosystem health initiatives, are not equally protected in every country, and veterinarians do not always receive sufficient training and education in how best to meet the needs of these animals. This MoU represents an opportunity for the WVA and AAALAC International to strengthen veterinarians' education and role in this sector."
"We are delighted to collaborate with the World Veterinary Association on the initiatives outlined in the MoU," said Dr. Kathryn Bayne, Chief Executive Officer of AAALAC International. "While our missions are specific to the work of our respective organisations, we share a common aim of promoting animal health and welfare globally, and providing education that supports animal health and welfare. We look forward to working with the WVA to advance these important objectives."
The World Veterinary Association unites and represents the global veterinary profession including national and international associations of veterinarians working in different areas of veterinary medicine. The WVA works to assure and promote animal health and welfare and public health globally, through developing and advancing veterinary medicine, the veterinary profession as well as public and private veterinary services. More information is available on WVA's website: www.worldvet.org.
---
Thank you Animal Care Staff for your continued dedication during COVID-19

Our thoughts are with you during these unprecedented and disquieting times. We truly appreciate your unwavering dedication and commitment to the animals and all aspects of your animal care and use programs. As a small token of thanks, we have compiled word games and recipes; may they brighten your days and break times...
---
Dr. Gary Borkowski receives the 2020 Stange Award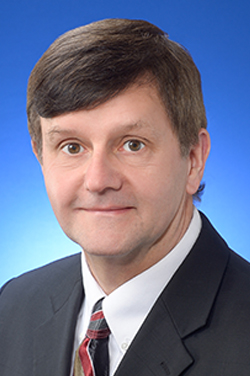 AAALAC International Global Director Dr. Gary Borkowski, D.V.M., has been awarded the 2020 Stange Award for Meritorious Service in Veterinary Medicine from the College of Veterinary Medicine at Iowa State University. The Stange Award is the highest award presented to distinguished alumni of Iowa State University's College of Veterinary Medicine. The award is presented annually for outstanding professional achievement in the area of education, government, industry, practice or other professional endeavors in veterinary medicine. It was established in 1970 by the Veterinary Medical Alumni Association at Iowa State University and named for Dr. Charles H. Stange who was dean of the college from 1906-1936.
Dr. Borkowski was appointed Global Director of AAALAC International in 2018 after serving for a year as Senior Director. He currently oversees the organization's global accreditation program (which includes more than 1,000 programs in 49 countries) and represents and promotes AAALAC's mission worldwide.
"We are thrilled that Dr. Borkowski has been selected for this prestigious honor," said Dr. Kathryn Bayne, AAALAC International Chief Executive Officer. "Dr. Borkowski has demonstrated tremendous leadership throughout his entire career, including his ongoing stewardship of AAALAC International's mission and work. This recognition from Iowa State is well deserved."
Dr. Borkowski received his veterinary medical degree from Iowa State University, a master's degree in laboratory animal medicine from the Pennsylvania State University, and he is board certified in Laboratory Animal Medicine. He has 30 years of experience in academic and pharmaceutical laboratory animal medicine and science, and has worked at major international research institutions including Vanderbilt University, Pennsylvania State University, Upstate Medical Center, Monsanto, Pharmacia, Pfizer and Eli Lilly & Co.
Please join us in congratulating Dr. Borkowski!
---
Dr. Patricia V. Turner Named WVA President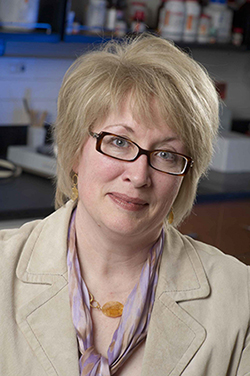 AAALAC International Council member Patricia V. Turner, M.S., D.V.M., D.V.Sc., has been named President of the World Veterinary Association (WVA). Dr. Turner currently serves as Corporate Vice-President, Global Animal Welfare, for Charles River Laboratories. She has served on AAALAC's Council on Accreditation for seven years and previously served as an Ad Hoc Specialist to AAALAC for seven years.
The WVA's mandate is to bring the global veterinary profession together to promote the role of the veterinary profession, tackle ongoing and emerging veterinary and public health concerns, foster improvements and harmonization in veterinary education around the world, and to raise awareness about key animal welfare issues. The WVA represents more than 500,000 veterinarians across six continents.
During her address to the WVA General Assembly, Dr. Turner commented, "…These past few months of dealing with the global SARS CoV-2 pandemic have shown us just how important it is to come together, as veterinary professionals, to share information amongst ourselves to keep veterinarians resilient and safe and businesses solvent, to support our clients and ensure good care and well-being of all animals, to ensure that veterinarians are recognized as providers of essential services…, and to use our knowledge and training in infectious diseases to support public health messaging and efforts in our communities and around the world."
"Dr. Turner's service to the mission and work of AAALAC International is a testament to her commitment to animal welfare as well as her dedication to advancing veterinary medicine and public health," said Dr. Kathryn Bayne, Chief Executive Officer of AAALAC International. "The WVA will benefit greatly from her leadership and expertise."
---
Kelly S. Patterson named 2020 AAALAC Fellow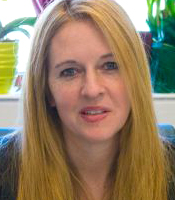 Ms. Kelly S. Patterson, MLAS, RLATG, CMAR, ILAM, is the 2020 U.S. recipient of the AAALAC International Fellowship Award. Ms. Patterson currently serves as Director of Vivarium Operations for PsychoGenics, Inc., in Paramus, New Jersey. There she manages and oversees the daily operation of the vivarium including supervision of animal care staff, cage wash staff, animal health monitoring and all aspects of quality control. Ms. Patterson has technical expertise in a wide variety of animal models and is an expert in preclinical project management.
Prior to her current position, Ms. Patterson served as the Founding Vivarium Director/Institutional Animal Care and Use Committee Vice-Chair/Adjunct Professor at Montclair State University in Montclair, New Jersey. She has also served as the Vivarium Manager/Institutional Animal Care and Use Committee Chair for Purdue Pharma and as a Senior Laboratory Manager at Columbia University in New York City. Ms. Patterson Is an active member of LAMA, LAWTE, National AALAS, PRIM&R and NJAALAS, and has coauthored numerous publications on gastric cancer research. She received her Master's in Laboratory Animal Science from Drexel University of Medicine in Philadelphia, Pennsylvania.
---
AAALAC International Office COVID-19 Update
March 21, 2020
Office staff will be teleworking
Starting Monday, March 23, all AAALAC International office staff will be teleworking. While our offices are physically closed, AAALAC remains open for business and we are available to assist you as always. Your emails and phone calls will be answered as per usual—you can reach us at +1.301.696.9626 or by email…
Regional Questions:
Financial Questions: finance@aaalac.org
All other inquiries: accredit@aaalac.org
Please send all correspondence electronically
For the foreseeable future we ask that all correspondence (including Program Descriptions) be sent electronically to the office. If your document is too large to email, just contact us and we will provide an alternative online delivery method such as DropBox.
Thank you for your patience and for all you are doing during this challenging time. Please reach out with any additional questions or concerns: accredit@aaalac.org.
---
A message to our accredited programs about Coronavirus (Covid-19)
March 12, 2020 -- We are reaching out to all accredited program contact personnel to provide an update on how AAALAC International is responding to the coronavirus outbreak. We are sensitive to the significant impact that the coronavirus outbreak is having on many programs, and want you to know that we are allowing flexibility in site visit scheduling for the remainder of 2020. This means that if you are scheduled for a Summer or Fall 2020 site visit and need to postpone the visit due to coronavirus impacts on your program, you can submit a request to the Executive Office (accredit@aaalac.org), and we ask that you include your six digit unit number in the request. If you choose to submit a request for postponement, we ask that you coordinate at the institutional level and submit one request. If you would like to discuss options for site visit scheduling, please contact Dr. Gary Borkowski, gborkowski@aaalac.org, Global Director, or the Senior Director for your region (Southeast Asia – Dr. Montip Gettayacamin, montipg@aaalac.org; Europe, Latin America, Africa and Middle East – Dr. Javier Guillen, jguillen@aaalac.org). If you would like to request an extension for the due date for submission of Program Descriptions, please contact Dr. Borkowski.
The AAALAC International Executive Office is continuing operations and has implemented practices recommended by the CDC and WHO, designed to minimize the chances of contracting or spreading coronavirus. We are reviewing our contingency plans and expect operations to continue.
The World Health Organization has a variety of resources and information on COVID-19 on their website: https://www.who.int/.
We are continuing to monitor the coronavirus situation and will provide updates as appropriate.
---
AAALAC International and Egyptian officials discuss care and use of research animals
November 17, 2019 -- AAALAC International's Senior Director for Europe and Latin America, Javier Guillén, met with the Egyptian Minister of Higher Education and Scientific Research and representatives from Cairo University and Utrecht University in November to discuss the possibility of establishing a legal framework in Egypt for the care and use of research animals. Also discussed was the potential development of a new national research center and its future AAALAC accreditation, along with the development of personnel training.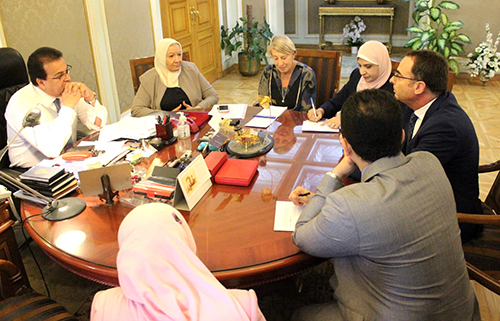 In attendance (from left) was Professor Khaled Abdel Ghaffar the Egyptian Minister of Higher Education and Scientific Research, Professor Khadiga Gaafar from Cairo University (meeting organizer), Professor Vera Baumans from Utrecht University (training advisor), Professor Sohair Fahmy, Vice Dean Faculty of Sciences, Cairo University, and Ministry staff.
"The Minister is supportive of promoting animal welfare and quality science in Egypt, and is considering AAALAC International accreditation as a means to achieve these objectives," Dr. Guillén said.
The Guide for the Care and Use of Laboratory Animals (Guide), NRC 2011, one of AAALAC's three primary standards, is in the process of being translated into Arabic. This will be another important resource for organizations in the region that are committed to quality animal care and program improvement.
---
AAALAC International presents the Bennett J. Cohen Award to Dr. Lynn C. Anderson
September 2019 -- At its 2019 Annual Conjoint Meeting of the Member Organization Delegates and Council on Accreditation in Bethesda, Maryland, AAALAC International presented its highest honor, the Bennett J. Cohen Award, to Dr. Lynn C. Anderson.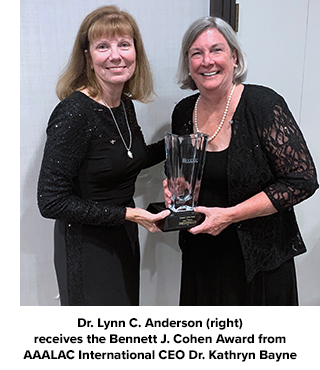 The Bennett J. Cohen Award
Named in honor of the late Bennett J. Cohen, the Cohen Award recognizes outstanding individuals who have, through their exceptional service and significant contributions to AAALAC International, demonstrated a strong and abiding commitment to advancing science through promotion of the highest standards of laboratory animal care in research, testing, and education. Dr. Cohen was a visionary in the field of laboratory animal science. He was instrumental in the founding of several well-known laboratory animal science organizations including AAALAC, AALAS, and ACLAM, and he was an ardent friend of the animal research and life science community. Dr. Cohen was a steadfast supporter of AAALAC International and the accreditation process and served as the first Chairman of AAALAC's Council on Accreditation. The 2019 award is the 14th occasion on which this prestigious award has been presented.
Dr. Lynn C. Anderson
Dr. Anderson began her career with AAALAC International as an ad hoc Consultant in 1986. She served for nine years in this role, and then served again as an ad hoc Specialist from 1995 to 2018. Dr. Anderson became a member of AAALAC's Board of Trustees in 2005 representing Americans for Medical Progress, continuing on as a Member Organization Delegate subsequent to AAALAC's change in governance structure. She became a Member-at-Large on the Executive Committee in 2016, and then Vice Chair of the Board of Directors in January 2017, and Chair in January 2018. She currently serves as Immediate Past Chair of the Board and has been pivotal in chairing several committees. She has served as President of three of AAALAC's Member Organizations: AALAS, ACLAM and ASLAP.
One of her nominators for this award noted that, "In each of the job positions Dr. Anderson has held during her professional career, she was a steadfast champion for the value of AAALAC International accreditation and used her position to broadcast that message."
"We are extremely grateful for the years of service Dr. Anderson has provided to AAALAC International," said Dr. Kathryn Bayne, AAALAC International's Chief Executive Officer. "Her dedication to AAALAC's mission has had, and will continue to have, a profound impact on the well-being of animals used in research and science worldwide, and the quality of the resulting science."
Please join us in congratulating Dr. Anderson on her service to the laboratory animal community and on receiving this well-deserved recognition!
---