---
AAALAC International Office COVID-19 Update
March 21, 2020
Office staff will be teleworking
Starting Monday, March 23, all AAALAC International office staff will be teleworking. While our offices are physically closed, AAALAC remains open for business and we are available to assist you as always. Your emails and phone calls will be answered as per usual—you can reach us at +1.301.696.9626 or by email…
Regional Questions:
Financial Questions: finance@aaalac.org
All other inquiries: accredit@aaalac.org
Please send all correspondence electronically
For the foreseeable future we ask that all correspondence (including Program Descriptions) be sent electronically to the office. If your document is too large to email, just contact us and we will provide an alternative online delivery method such as DropBox.
Thank you for your patience and for all you are doing during this challenging time. Please reach out with any additional questions or concerns: accredit@aaalac.org.
---
A message to our accredited programs about Coronavirus (Covid-19)
March 12, 2020 -- We are reaching out to all accredited program contact personnel to provide an update on how AAALAC International is responding to the coronavirus outbreak. We are sensitive to the significant impact that the coronavirus outbreak is having on many programs, and want you to know that we are allowing flexibility in site visit scheduling for the remainder of 2020. This means that if you are scheduled for a Summer or Fall 2020 site visit and need to postpone the visit due to coronavirus impacts on your program, you can submit a request to the Executive Office (accredit@aaalac.org), and we ask that you include your six digit unit number in the request. If you choose to submit a request for postponement, we ask that you coordinate at the institutional level and submit one request. If you would like to discuss options for site visit scheduling, please contact Dr. Gary Borkowski, gborkowski@aaalac.org, Global Director, or the Senior Director for your region (Southeast Asia – Dr. Montip Gettayacamin, montipg@aaalac.org; Europe, Latin America, Africa and Middle East – Dr. Javier Guillen, jguillen@aaalac.org). If you would like to request an extension for the due date for submission of Program Descriptions, please contact Dr. Borkowski.
The AAALAC International Executive Office is continuing operations and has implemented practices recommended by the CDC and WHO, designed to minimize the chances of contracting or spreading coronavirus. We are reviewing our contingency plans and expect operations to continue.
The World Health Organization has a variety of resources and information on COVID-19 on their website: https://www.who.int/.
We are continuing to monitor the coronavirus situation and will provide updates as appropriate.
---
AAALAC International and Egyptian officials discuss care and use of research animals
November 17, 2019 -- AAALAC International's Senior Director for Europe and Latin America, Javier Guillén, met with the Egyptian Minister of Higher Education and Scientific Research and representatives from Cairo University and Utrecht University in November to discuss the possibility of establishing a legal framework in Egypt for the care and use of research animals. Also discussed was the potential development of a new national research center and its future AAALAC accreditation, along with the development of personnel training.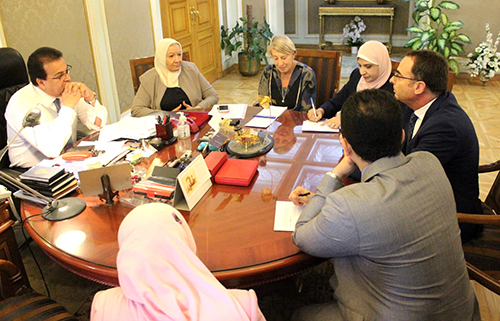 In attendance (from left) was Professor Khaled Abdel Ghaffar the Egyptian Minister of Higher Education and Scientific Research, Professor Khadiga Gaafar from Cairo University (meeting organizer), Professor Vera Baumans from Utrecht University (training advisor), Professor Sohair Fahmy, Vice Dean Faculty of Sciences, Cairo University, and Ministry staff.
"The Minister is supportive of promoting animal welfare and quality science in Egypt, and is considering AAALAC International accreditation as a means to achieve these objectives," Dr. Guillén said.
The Guide for the Care and Use of Laboratory Animals (Guide), NRC 2011, one of AAALAC's three primary standards, is in the process of being translated into Arabic. This will be another important resource for organizations in the region that are committed to quality animal care and program improvement.
---
AAALAC International presents the Bennett J. Cohen Award to Dr. Lynn C. Anderson
September 2019 -- At its 2019 Annual Conjoint Meeting of the Member Organization Delegates and Council on Accreditation in Bethesda, Maryland, AAALAC International presented its highest honor, the Bennett J. Cohen Award, to Dr. Lynn C. Anderson.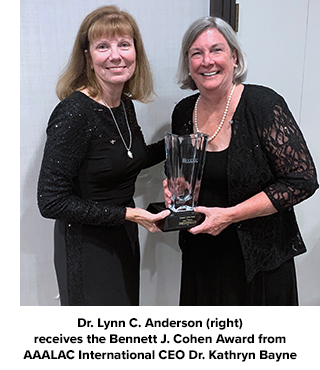 The Bennett J. Cohen Award
Named in honor of the late Bennett J. Cohen, the Cohen Award recognizes outstanding individuals who have, through their exceptional service and significant contributions to AAALAC International, demonstrated a strong and abiding commitment to advancing science through promotion of the highest standards of laboratory animal care in research, testing, and education. Dr. Cohen was a visionary in the field of laboratory animal science. He was instrumental in the founding of several well-known laboratory animal science organizations including AAALAC, AALAS, and ACLAM, and he was an ardent friend of the animal research and life science community. Dr. Cohen was a steadfast supporter of AAALAC International and the accreditation process and served as the first Chairman of AAALAC's Council on Accreditation. The 2019 award is the 14th occasion on which this prestigious award has been presented.
Dr. Lynn C. Anderson
Dr. Anderson began her career with AAALAC International as an ad hoc Consultant in 1986. She served for nine years in this role, and then served again as an ad hoc Specialist from 1995 to 2018. Dr. Anderson became a member of AAALAC's Board of Trustees in 2005 representing Americans for Medical Progress, continuing on as a Member Organization Delegate subsequent to AAALAC's change in governance structure. She became a Member-at-Large on the Executive Committee in 2016, and then Vice Chair of the Board of Directors in January 2017, and Chair in January 2018. She currently serves as Immediate Past Chair of the Board and has been pivotal in chairing several committees. She has served as President of three of AAALAC's Member Organizations: AALAS, ACLAM and ASLAP.
One of her nominators for this award noted that, "In each of the job positions Dr. Anderson has held during her professional career, she was a steadfast champion for the value of AAALAC International accreditation and used her position to broadcast that message."
"We are extremely grateful for the years of service Dr. Anderson has provided to AAALAC International," said Dr. Kathryn Bayne, AAALAC International's Chief Executive Officer. "Her dedication to AAALAC's mission has had, and will continue to have, a profound impact on the well-being of animals used in research and science worldwide, and the quality of the resulting science."
Please join us in congratulating Dr. Anderson on her service to the laboratory animal community and on receiving this well-deserved recognition!
---